Traumatic brain injury is the leading cause of death and disability worldwide, especially in children and young adults. Unfortunately, there are no effective medications currently available for prevention and treatment of TBI.
  Our research focuses on understanding the pathological mechanisms of neurodegeneration induced by TBI, and developing early diagnostic and treatment approaches for cognitive problem and mental illness in brain trauma. Over the past few years, we have constructed a database of gene expression profiles of neural stem cells and microglia under different time windows of brain trauma, and identified dozens of genes that might be closely related to neurogenesis, cell survival, synaptic transmission, synaptic plasticity, neuroinflammation, or phenotypic transformation of microglia. We also have developed several techniques to generate microglia, neural progenitor cells, excitatory neurons, inhibitory neurons and brain organoids from human pluripotent stem cells. We have been trying to comprehensively use multidisciplinary methods such as genetics, molecular biology, biochemistry, cell biology, bioinformatics, behavioral science, and electrophysiology, taking into account both animal models and humanized neural models, to discover novel therapeutic targets for neurological and psychological disorders, and to engineer approaches to neural regeneration.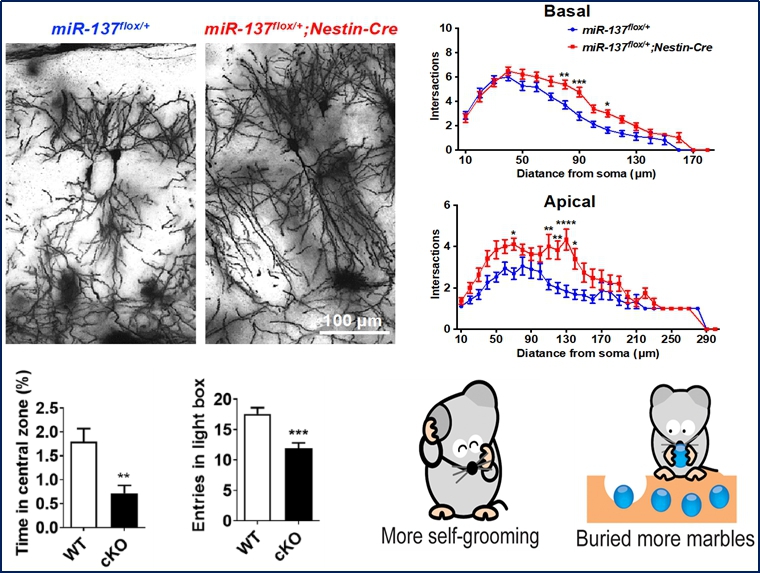 We found that loss of MIR137, a mental illness risk gene, has typical anxiety, cognitive and social disabilities in mice. Pde10a and Ezh2 were identified as miR-137's downstream targets that regulate cognitive and mood-related behaviors (Nature Neuroscience 2018; Frontiers in Molecular Neuroscience 2019).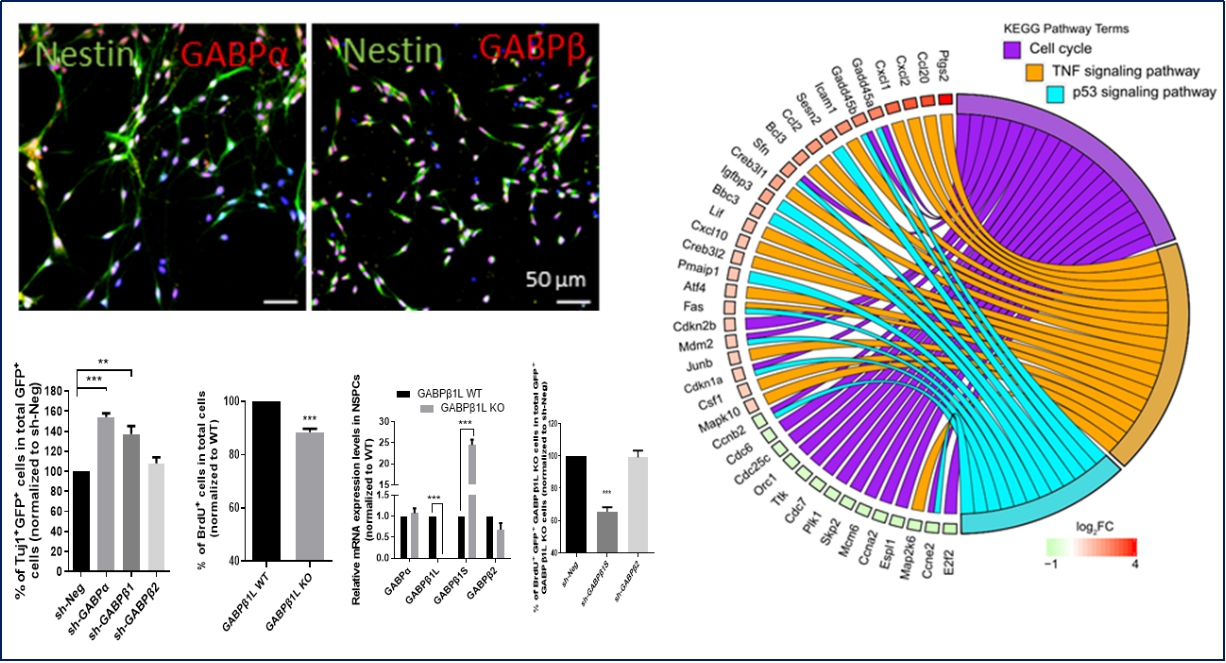 We reported for the first time that GABP play an indispensable regulatory role in the proliferation and differentiation of neural stem cells, and put forward a new hypothesis that GABPβ1S may compensate GABPβ1L to regulate neural development (Stem Cell Research 2019).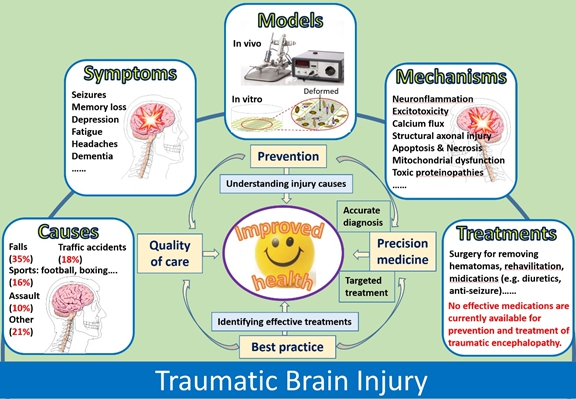 Plain english:
Traumatic brain injury (TBI) is the damage to the brain due to sudden trauma, either by penetrating or, more commonly, by closed head injury. TBI is a major public health and socioeconomic problem around the world. TBI survivors usually develop many troubling symptoms, such as seizures, pain, body motor dysfunction, memory loss, and psychological and social cognitive defects. Recently, some evidences indicate that TBI may interact with other factors to trigger neurodegenerative diseases, such as Parkinson's disease and Alzheimer's disease.
Our research interests include, but are not limited to: 1) characterizing the effects of TBI on endogenous neurogenesis and gliogenesis; 2) identifying both genetic and epigenetic factors that might be associated with a complex cascade of molecular, cellular and immune responses, resulting in abnormal neurogenesis, neuroinflammation, neuronal injury, and cell death; 3)elucidating the mechanism of microglial transformation; and 4) engineering approaches to neural regeneration.
Selected publications:
Liu C#, Dai SK#, Sun Z#, Wang Z, Liu PP, Du HZ, Yu S*, Liu CM*, Teng ZQ*. GA-binding protein GABPβ1 is required for the proliferation of neural stem/progenitor cells. Stem Cell Research. 2019 Aug;39:101501.
Yan HL#, Sun XW#, Wang ZM#, Liu PP#, Mi TW, Liu C, Wang YY, He XC, Du HZ, Liu CM*, Teng ZQ*. MiR-137 Deficiency Causes Anxiety-Like Behaviors in Mice. Frontiers in Molecular Neuroscience. 2019 Oct 30;12:260.
Xu YJ, Liu PP, Ng SC, Teng ZQ, Liu CM*. Regulatory Networks between Polycomb Complexes and Non-coding RNAs in Central Nervous System. Journal of Molecular Cell Biology. 2019 Jul 10. pii: mjz058.
Zhu W, Zhang B, Li M, Mo F, Mi T, Wu Y, Teng ZQ, Zhou Q*, Li W*, Hu B*. Precisely controlling endogenous protein dosage in hPSCs and derivatives to model FOXG1 syndrome. Nature Communications. 2019 Feb 25;10(1):928.
Liu PP, Xu YJ, Dai SK, Du HZ, Wang YY, Li XG, Teng ZQ, Liu CM*. Polycomb Protein EED Regulates Neuronal Differentiation through Targeting SOX11 in Hippocampal Dentate Gyrus. Stem Cell Reports. 2019 Jul 9;13(1):115-131.
Cheng Y#, Wang ZM#, Tan W#, Wang X#, Li Y, Bai B, Li Y, Zhang SF, Yan HL, Chen ZL, Liu CM, Mi TW, Xia S, Zhou Z, Liu A, Tang GB, Liu C, Dai ZJ, Wang YY, Wang H, Wang X, Kang Y, Lin L, Chen Z, Xie N, Sun Q, Xie W, Peng J, Chen D*, Teng ZQ*, Jin P*. Partial loss of psychiatric risk gene Mir137 in mice causes repetitive behavior and impairs sociability and learning via increased Pde10a. Nature Neuroscience. 2018 Dec;21(12):1689-1703.
Sun XW, Liu CM, Teng ZQ*. Commentary: Multiscale Analysis of Independent Alzheimer's Cohorts Finds Disruption of Molecular, Genetic, and Clinical Networks by Human Herpesvirus. Frontiers in Molecular Neuroscience. 2018 Sep 20;11:340.
Duan RS#, Tang GB#, Du HZ#, Hu YW, Liu PP, Xu YJ, Zeng YQ, Zhang SF, Wang RY, Teng ZQ, Liu CM*. Polycomb protein family member CBX7 regulates intrinsic axon growth and regeneration. Cell Death and Differentiation. 2018 Sep;25(9):1598-1611.
Wu M, Zhang D, Bi C, Mi T, Zhu W, Xia L, Teng ZQ, Hu B*, Wu Y*. A Chemical Recipe for Generation of Clinical-Grade Striatal Neurons from hESCs. Stem Cell Reports. 2018 Sep 11;11(3):635-650.
Liu PP, Xu YJ, Teng ZQ, Liu CM*. Polycomb Repressive Complex 2: Emerging Roles in the Central Nervous System. Neuroscientist. 2018 Jun; 24(3): 208-220.
Tang GB#, Zeng YQ#, Liu PP#, Mi TW, Zhang SF, Dai SK, Tang QY, Yang L, Xu YJ, Yan HL, Du HZ, Teng ZQ*, Zhou FQ*, Liu CM*. The Histone H3K27 Demethylase UTX Regulates Synaptic Plasticity and Cognitive Behaviors in Mice. Frontiers in Molecular Neuroscience. 2017 Aug 24;10:267.
Liu PP, Tang GB, Xu YJ, Zeng YQ, Zhang SF, Du HZ, Teng ZQ*, Liu CM*. MiR-203 Interplays with Polycomb Repressive Complexes to Regulate the Proliferation of Neural Stem/Progenitor Cells. Stem Cell Reports. 2017 Jul 11;9(1):190-202.
Chen R#, Zhang J#, Fan N#, Teng ZQ#, Wu Y#, Yang H, Tang YP, Sun H, Song Y, Chen C*. Δ9-THC-caused synaptic and memory impairments are mediated through COX-2 signaling. Cell. 2013 Nov 21;155(5):1154-1165.
Liu C#, Teng ZQ#, Santistevan NJ, Szulwach KE, Guo W, Jin P, Zhao X*. Epigenetic regulation of miR-184 by MBD1 governs neural stem cell proliferation and differentiation. Cell Stem Cell. 2010 May 7;6(5):433-44.