The swine, sharing many physiological similarities with humans, offers several breeding and handling advantages (when compared to non-human primates), making it an optimal species for preclinical experimentation and biomedical research. This ability to insert new genetic material and/or subsequently delete or replace genes opened new possibilities for the use of pigs as a research animal. Our research focus on making genetic modifications in pigs by two strategies: 1. Mutagenesis by ENU; 2. Somatic Cell Nuclear Transfer (SCNT) combined with transgenic/gene targeting . The long term goal of making genetic modification in pigs is of improving the production efficiency or pork quality and safety as well as animal models for human disease and health. My lab conducts research in two main areas. Genetic modifications in pig genome; Reprogramming mechanism in SCNT and epigenetic regulations in the development of early stage embryos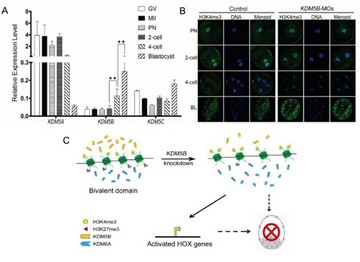 KDM5B is critical to porcine embryo development through regulating the balance of bivalent H3K4me3-H3K27me3 modifications.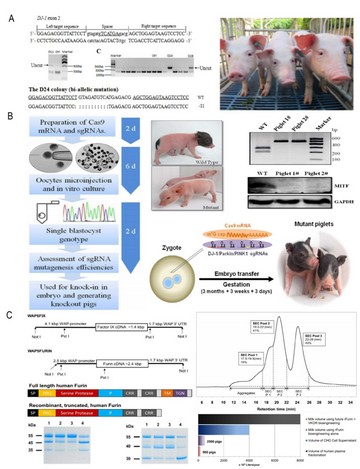 Highly efficient generation of DJ1 biallelic knockout pigs with TALENs. One-step generation of triple gene-targeted pigs using CRISPR/Cas9 system.The complete processing of pro-rFIX to rFIX at high levels using the Golgi-targeted, coexpression of a soluble recombinant human furin (rFurin) with PACE specific activity in the pig mammary gland.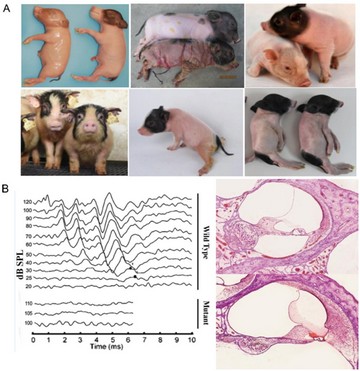 A large number of animal models were created using ENU mutagenesis.
An ideal large animal model for human Waardenburg syndrome type II (WS2) was generated using ENU mutagenesis.
Plain english:
  Swine have been used in biomedical research for many decades as a model for human disease processes, as a genetically defined model for surgery and xeno-transplantation, and as a source of human therapeutics. All of these uses could be enhanced by the ability to specifically and non-specifically modify the pig genome. In order to meet the needs of developing of genetically modified pig models to human, our research focus on : 1) establishment of optimal pig models for biomedical research; 2) efficient genetic modifications in pig genome.
Selected publications:
Lin J§, Cao C§, Tao C§, Ye R, Dong M, Zheng Q, Wang C, Jiang X, Qin G, Yan C, Li K, Speakman JR, Wang Y*, Jin W*, Zhao J*. Cold adaptation in pigs depends on UCP3 in beige adipocytes. Journal of Molecular Cell Biology, 2017: 1-12.
Jia Q§, Cao C§, Tang H, Zhang Y, Zheng Q, Wang X, Zhang R, Wang X, Luo A, Wei H, Meng A, Zhou Q, Wang H*, Zhao J* . A 2-bp insertion (c. 67_68insCC) in MC1R causes recessive white coat color in Bama miniature pigs. Journal of Genetics and Genomics, 2017, 44(4): 215-217.
Song C§, Yao J§, Cao C, Liang X, Huang J, Han Z, Zhang Y, Qin G, Tao C, Li C, Yang H, Zhao J, Li K, Wang Y. PPARγ is regulated by miR-27b-3p negatively and plays an important role in porcine oocyte maturation. Biochemical and Biophysical Research Communications, 2016, 479(2): 224-230.
Yao J, Huang J, Zhao J*. Genome editing revolutionize the creation of genetically modified pigs for modeling human diseases. Human Genetics, 2016, 135(9): 1093-1105.
Wang X§, Cao C§, Huang J§, Yao J, Hai T, Zheng Q, Wang X, Zhang H, Qin G, Cheng J, Wang Y, Yuan Z, Zhou Q, Wang H*, Zhao J*. One-step generation of triple gene targeted pigs using CRISPR/Cas9 system. Sci Rep. 2016 Feb 9;6:20620.
Huang J§, Zhang H, Yao J, Qin G, Wang F, Wang X, Luo A, Zheng Q, Cao C, Zhao J*. BIX-01294 increases pig cloning efficiency by improving epigenetic reprogramming of somatic cell nuclei. Reproduction. 2016 Jan;151(1):39-49.
Zhao J§. , Xu WJ, Ross JW., Walters EM., Butler SP., Whyte JJ., Kelso L., Fatemi M, Vanderslice NC., Giroux K., Spate LD., Samuel MS., Murphy CN., Wells KD., Masiello NC., Prather RS*. & Velander WH*. Engineering protein processing of the mammary gland to produce abundant hemophilia B therapy in milk . Sci Rep. 2015 Sep 21;5:14176.
Huang J§, Zhang H, Wang X, Dobbs KB, Yao J, Qin G, Whitworth K, Walters EM, Prather RS*, Zhao J*. Impairment of Preimplantation Porcine Embryo Development by Histone Demethylase KDM5B Knockdown Through Disturbance of Bivalent H3K4me3-H3K27me3 Modifications. Biol Reprod. 2015 Mar; 92(3):72.
Yao J§, Huang JJ, HaiTang , Wang XL, Qin GS, Zhang HY, Wu R, Xi J. J, Yuan Z, Zhao J*. Efficient bi-allelic gene knockout and site-specific knock-in mediated by TALENs in pigs. Sci Rep. 2014 Nov 5;4:6926.
Ross JW, Fernandez de Castro JP, Zhao J, Samuel M, Walters E, Rios C, Bray-Ward P, Jones BW, Marc RE, Wang W, Zhou L, Noel JM, McCall MA, Demarco PJ, Prather RS, Kaplan HJ. 2012 Generation of an inbred miniature pig model of retinitis pigmentosa.Invest Ophthalmol Vis Sci, 53(1), 501-7.
Whyte JJ*, Zhao JG*, Samuel M, Laughlin HM, Prather RS. 2011 Gene Targeting with Zinc Finger Nucleases to Produce Cloned eGFP Knockout Pigs. Mol Reprod Dev, 78(1), 2 (*equal contribution).
Zhao JG, Whyte JJ, Prather RS. 2010 The Effect of Epigenetic Regulation on Somatic Cell Nuclear Transfer.Cell Tissue Res, 341(1),13-21. (invited review).
Zhao JG, Hao Y, Ross JW, Spate LD, Walters EM, Samuel MS, Rieke A, Murphy CN, Prather RS. 2010 Histone Deacetylase Inhibitors Improve In Vitro and In Vivo Developmental Competence of Somatic Nuclei Nuclear Transfer Porcine Embryos. Cell Reprogram,12(1), 75-83.
Zhao J, Ross JW, Hao Y, Spate LD, Walters EM, Samuel MS, Rieke A, Murphy CN, Prather RS. 2009 Significant Improvement in Cloning Efficiency of an Inbred Miniature Pig by Histone Deacetylase Inhibitor Treatment after Somatic Cell Nuclear Transfer. Biol Reprod, 81, 525-530.